UFO apartment with sliding wall, Eurovea, Bratislava, Slovakia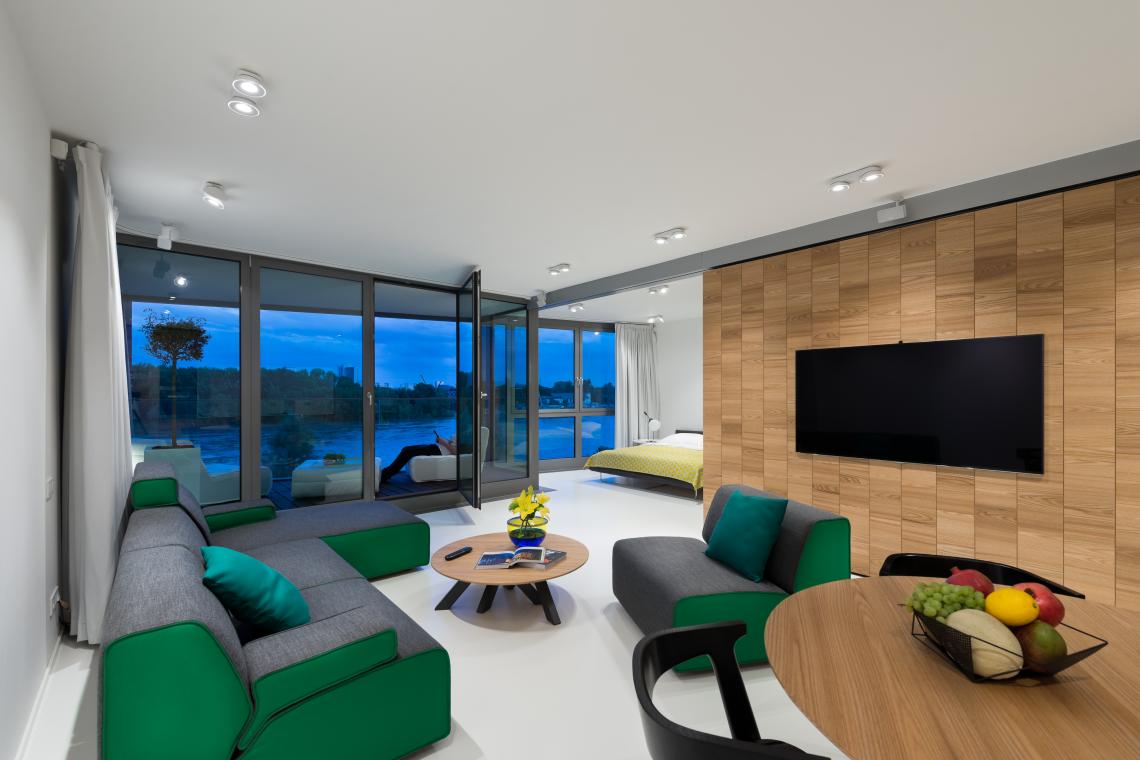 We designed an exclusive apartment on the Danube waterfront, which includes a unique element - three meters high electricallly driven sliding wall separated the rooms. After opening the apartment of size 70 m² gets a large 50 m² living room.
Flexible layout
The layout enables inhabitants to see the Danube from any part of their apartment. In spite of its sci-fi image the fancy apartment still has a logical and functional layout, it is divided into a daytime and night time zones and has enough storage room (even more than in the original layout). From the hall (1) with a shoe locker and wardrobe the visitors' toilet with washing machine can be accessed (2). The daytime zone (3) and bedroom (4) are separated by the electrically controlled sliding wall. When pushed aside (separating the bedroom) hidden storage rooms in the living room can be accessed. The night zone consists of the bedroom and bathroom with the wardrobe, divided by a glass sliding partition. The flexible layout gives a possibility to divide/merge the daytime and night time zones by means of the electrical partition between the bedroom and living room. People in the two room apartment will probably share similar lifestyles and the wall will be open most of the time, giving them twice as much Danube. Since the view of Danube is the main added value of the location, an investment into a technically challenging solution was legitimate.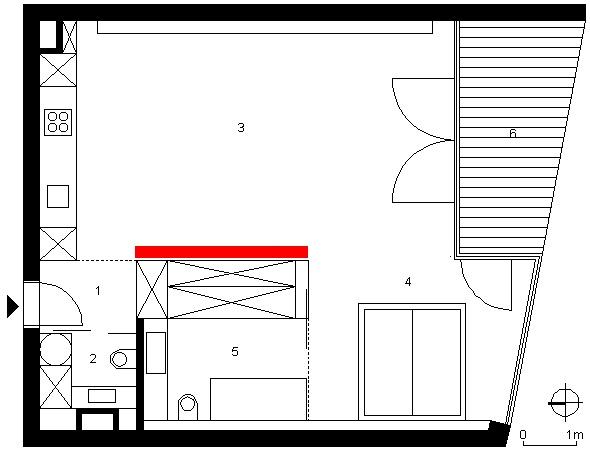 Floor plan 62,1 m²
01 Hall 3,1 m² 02 Visitors' toilet and laundry 2,8 m² 03 Daytime zone 34,7 m² 04 Bedroom 11,6 m² 05 Bathroom with a wardrobe 10,2 m² 06 Loggia 8,6 m²