Single-family house near forest, Trencin, Slovakia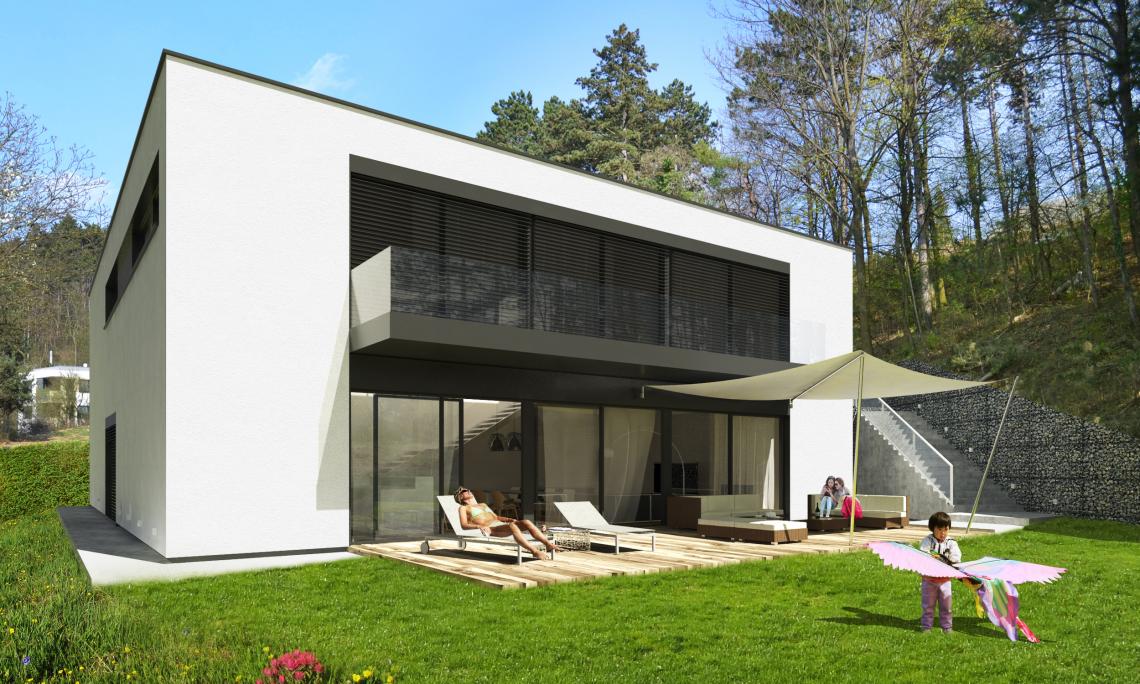 A simple if not trivial shape of a family house contains cosy interior opposite to a radical low-energy exterior. A regular rectangular mass of the building contrasts with an irregular northwards slanting building lot.
Two floored family house has a square ground plan with clearly defined functional zones. Upstairs, level with the driveway there are entrance areas, the garage and the night time zone with bedrooms. Downstairs, level with the garden there is the daytime zone with facilities. Children rooms and a guest room are west oriented, parents' zone in the independent section of the house is east oriented with a wardrobe, a bathroom and a bedroom. All residential rooms in the night zone have balconies. Downstairs, with a direct access to the garden there are the daytime and fitness zones. The daytime zone consists of one huge area (the living room, the dining room and the kitchen) neighbouring with the pantry (kitchen side) and storage area (living room side) accessible from the outside and giving direct access to the fireplace. It is a practical solution as it eliminates staining the floor around the fireplace during cleaning. The fitness part contains a bathroom with a shower, a laundry and a gym. When designing we put emphasis on logical layout of rooms sparing the residents unnecessary walking. The main stairway between floors takes inhabitants from the entry room directly to the daytime zone. Next to the parents' zone there is an elevator allowing fast transfer down one floor to the kitchen without bypassing the stairway and the whole night time zone. The laundry is under the parents' closet and a laundry chute leads directly into the laundry. Above the night corridor there is a huge skylight, letting lot of daylight into the corridor and resembling internal atrium.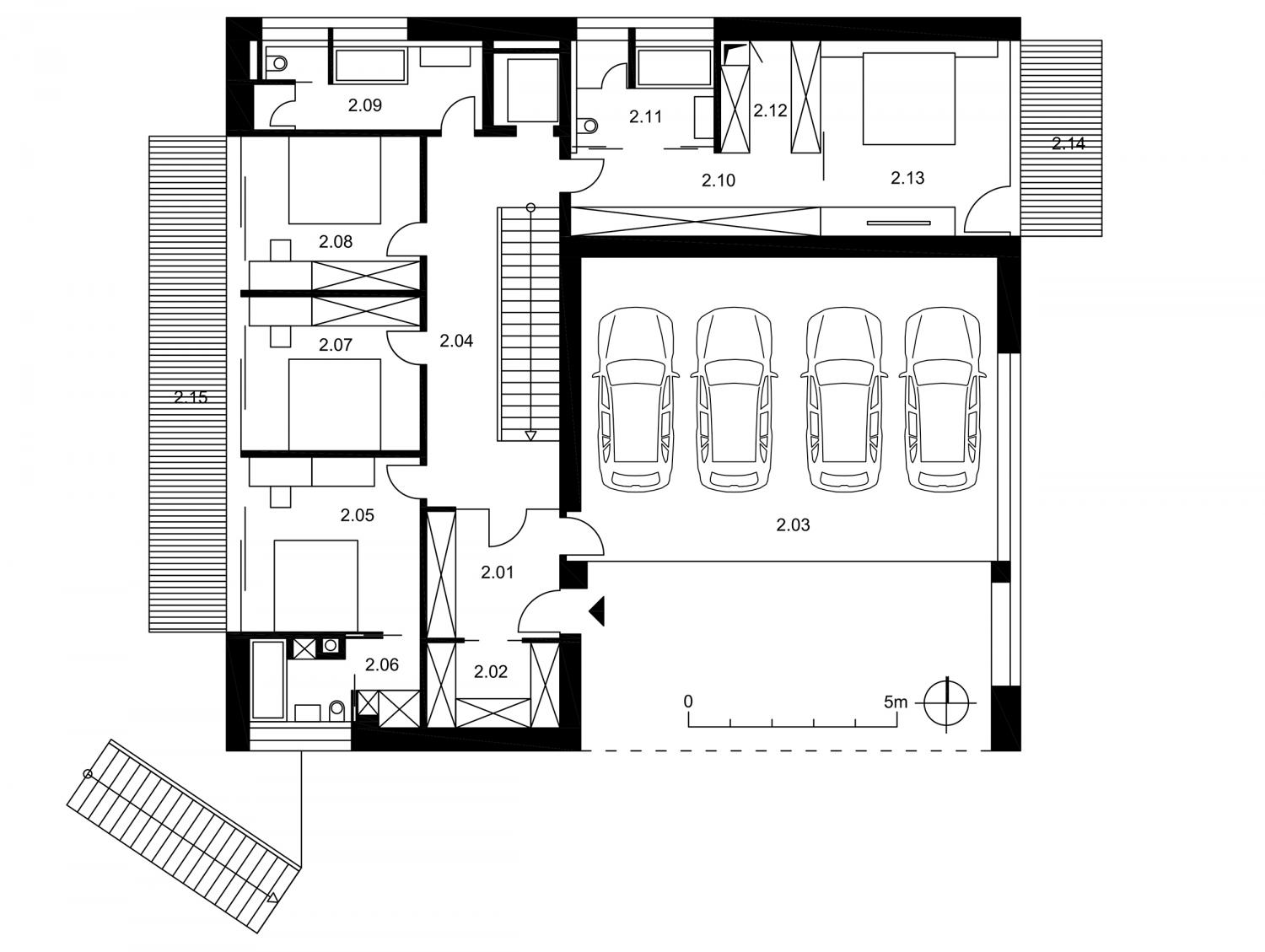 Ground plan First floor (entrance level) 223,7 m² (total area 385,1 m²)
2.01 vestibule 10,2 m² / 2.02 storage (wardrobe) 6,9 m² / 2.03 garage for four cars 73,0 m² / 2.04 hall with skylight 20,1 m² / 2.05 guest room 17,2 m² / 2.06 sanitary and wardrobe (guests) 6,8 m² / 2.07 children´s room 1 15,7 m² / 2.08 children´s room 2 15,7 m² / 2.09 children´s bathroom 10,6 m² / 2.10 parents corridor with bathroom 12,0 m² / 2.11 parents' bathroom 8,7 m² / 2.12 parents' wardrobe with clothes dropping 6,5 m² / 2.13 parents' bedroom 20,0 m² / 2.14 balcony (parents) 9,4 m² / 2.15 balcony (rooms) 23,2 m²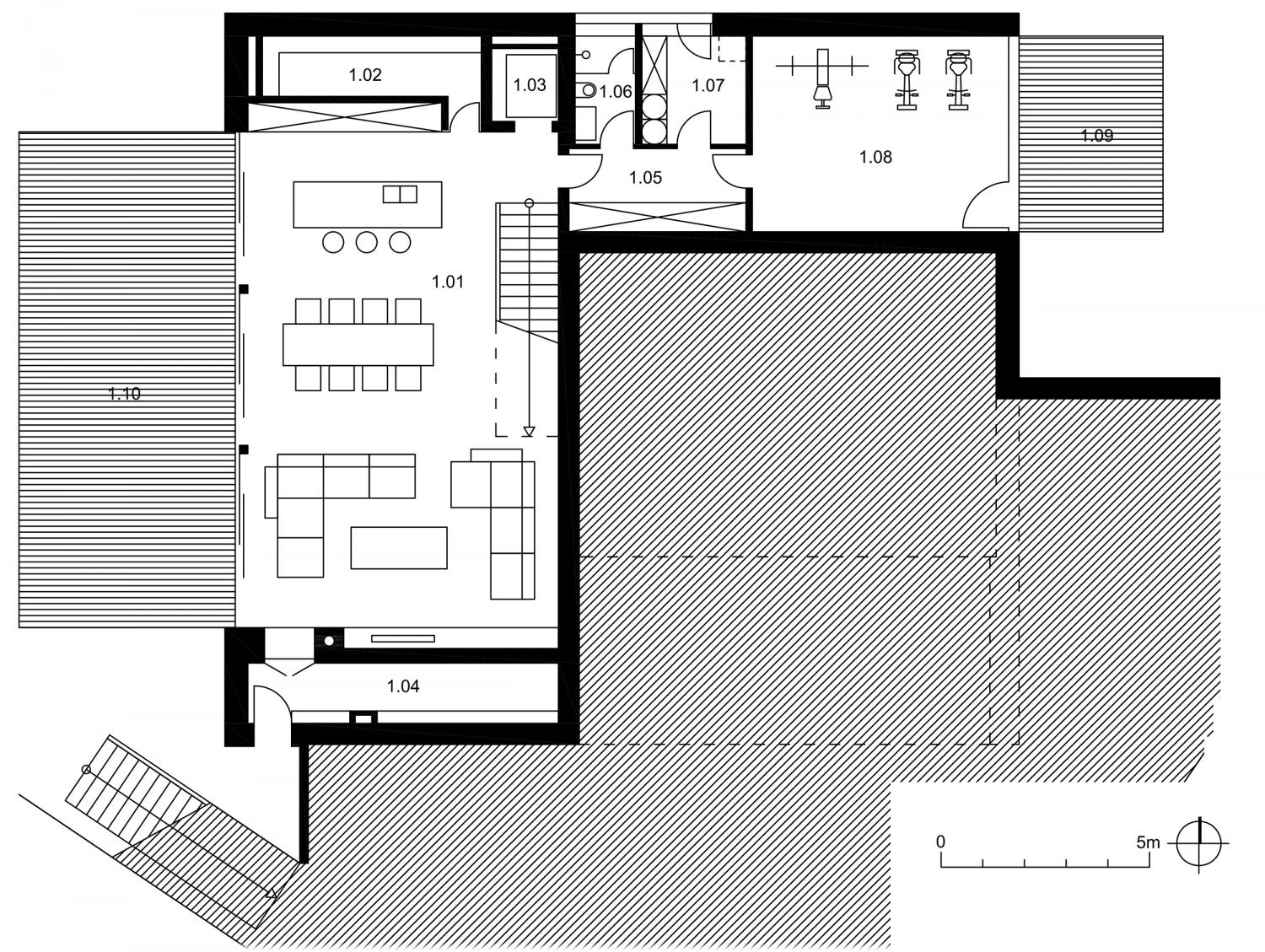 Ground plan of the first underground floor (garden level) 161,4 m² (total area 385,1 m²)
1.01 daytime zone 94,5 m² / 1.02 pantry 8,3 m² / 1.03 lift 3,3 m² / 1.04 exterior storage 10,6 m² / 1.05 corridor with wardrobe 6,5 m² / 1.06 wc with shower 3,8 m² / 1.07 laundry room 6,5 m² / 1.08 fitness 28,7 m² / 1.09 terrace (fitness) 18,5 m² / 1.10 terrace (daytime zone) 62,3 m²