Family house in a hillside, Bratislava, Slovakia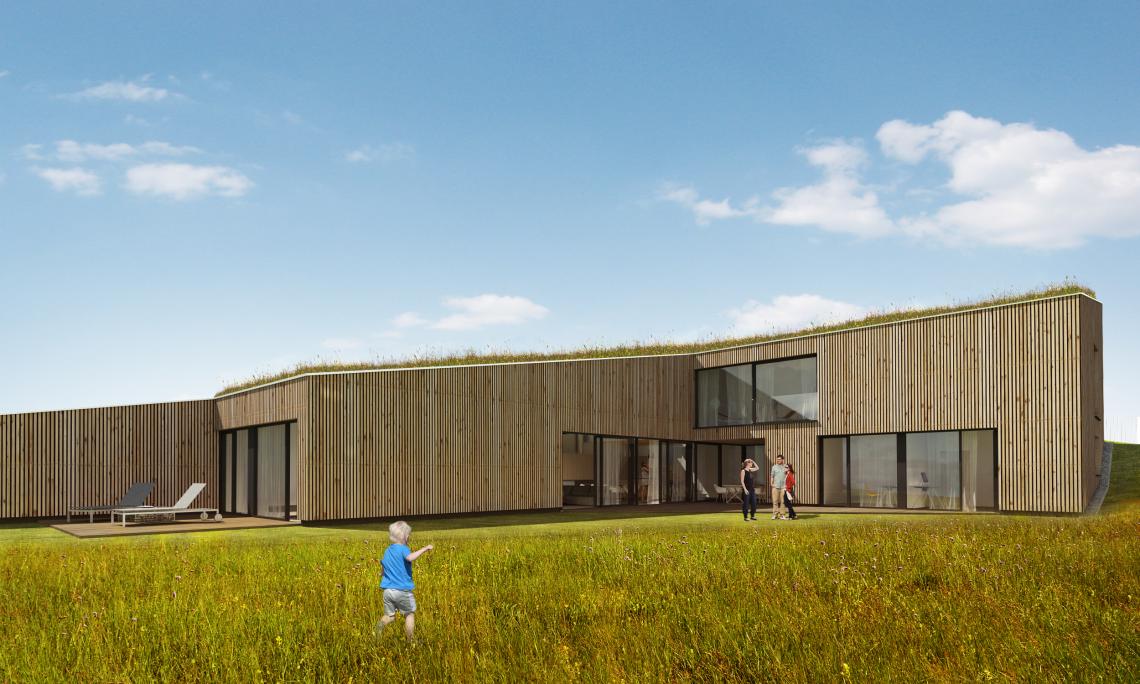 The architecture of the family house corresponds with the hillside creating by its mass an atrium protecting a garden and a terrace from optical contact from the street as well as from the neighbour. Compact and simple shape of the house looks natural, as if it belonged there.
The house has two floors, upstairs on the street level there are entrance and storage rooms, a study room and fitness. Due to direct contact with the garden both daytime and night time zones are downstairs. The entrance part contains a spacious foyer with a wardrobe and a garage that is longer than normal with enough space for bicycles and a pram. On the entrance floor there is also a study room and a room for fitness. Downstairs there is a daytime zone between the parents' and children zones. Thanks to a sliding door the daytime zone is directly connected with the terrace. In the daytime zone there is also a storeroom for terrace furniture and grill. It can also serve as a pantry for the kitchen. The living room connected with the dining room has a clearance of more than 1,5 floor and thanks to upper windows it also gets southern sunlight. In front of the daytime zone there is a huge terrace embedded into the house and protected from bad weather. Here a dining table could be standing all year long. The night time zone is divided into children and parents' zones located in different parts of the house and offering enough privacy to both parents and children. When children are still small, parents can also use the guestroom as a bedroom. The parents' zone can also be used as an independent unit for grandparents. The children zone consists of two rooms of the same size, a guest room, a wardrobe with a washing machine, a bathroom with a shower bath and a toilet and another bathroom near the daytime zone that can serve as a guest bathroom. Separate wardrobe with a washing machine in the night time zone is practical, as there will be no need to carry the laundry. The parents' zone contains a master bedroom, a wardrobe and a bathroom. Next to the daytime zone, the parents' bedroom is separated from the daytime zone by two doors providing necessary silence and intimacy. The bathroom is accessible through the wardrobe, so that bathroom/wardrobe can be used at the same time without disturbing.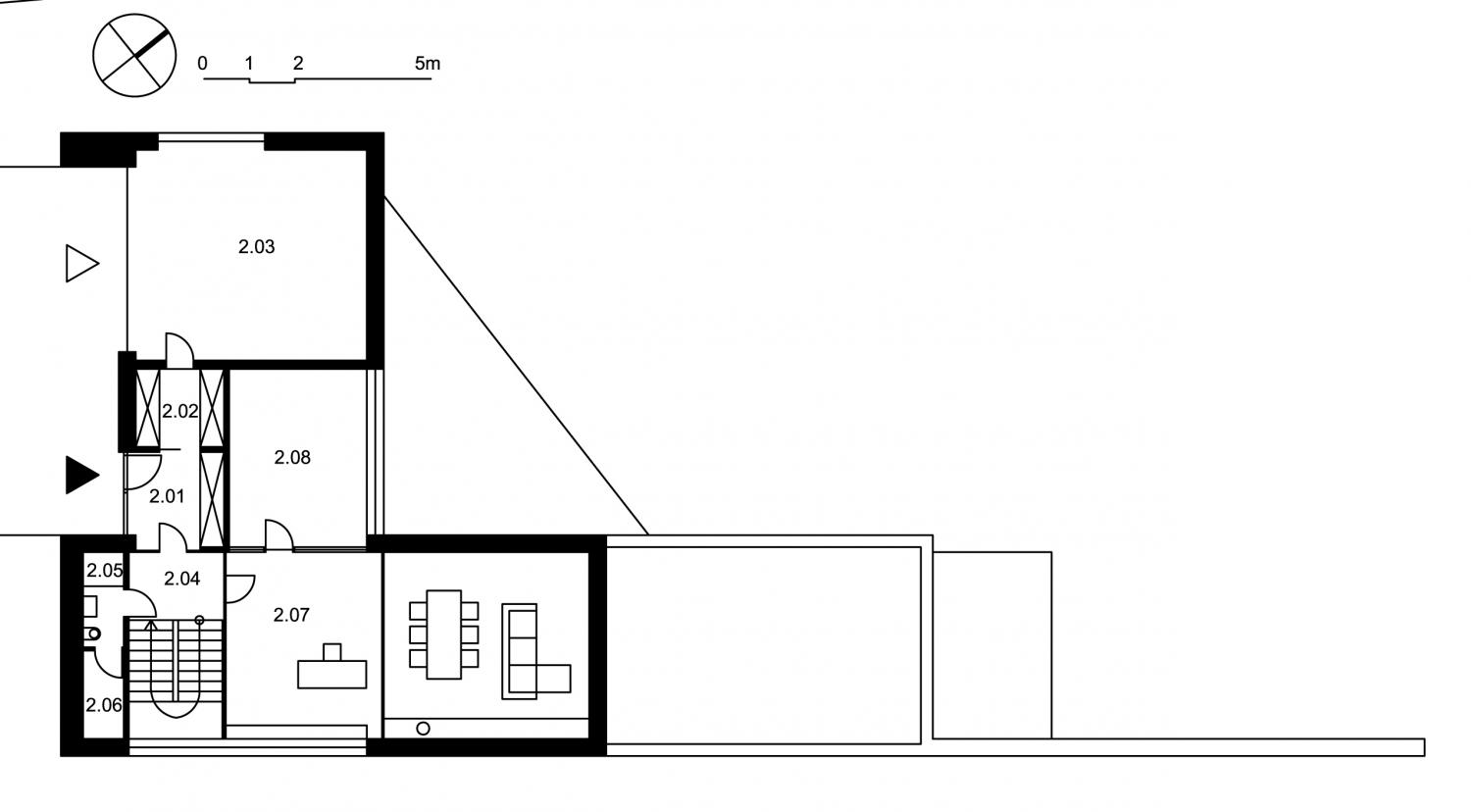 Ground plan of the 1st above-ground floor (entrance level) 111,1 m² (total area 329,5 m²)
2.01 vestibule 7,8 m² / 2.02 storage (wardrobe) 5,2 m² / 2.03 garage for two cars 40,3 m² / 2.04 hall 6,3 m² / 2.05 toilet guests 3,3 m² / 2.06 technical room 3,1 m² / 2.07 study room 23,9 m² / 2.08 fitness 21,2 m²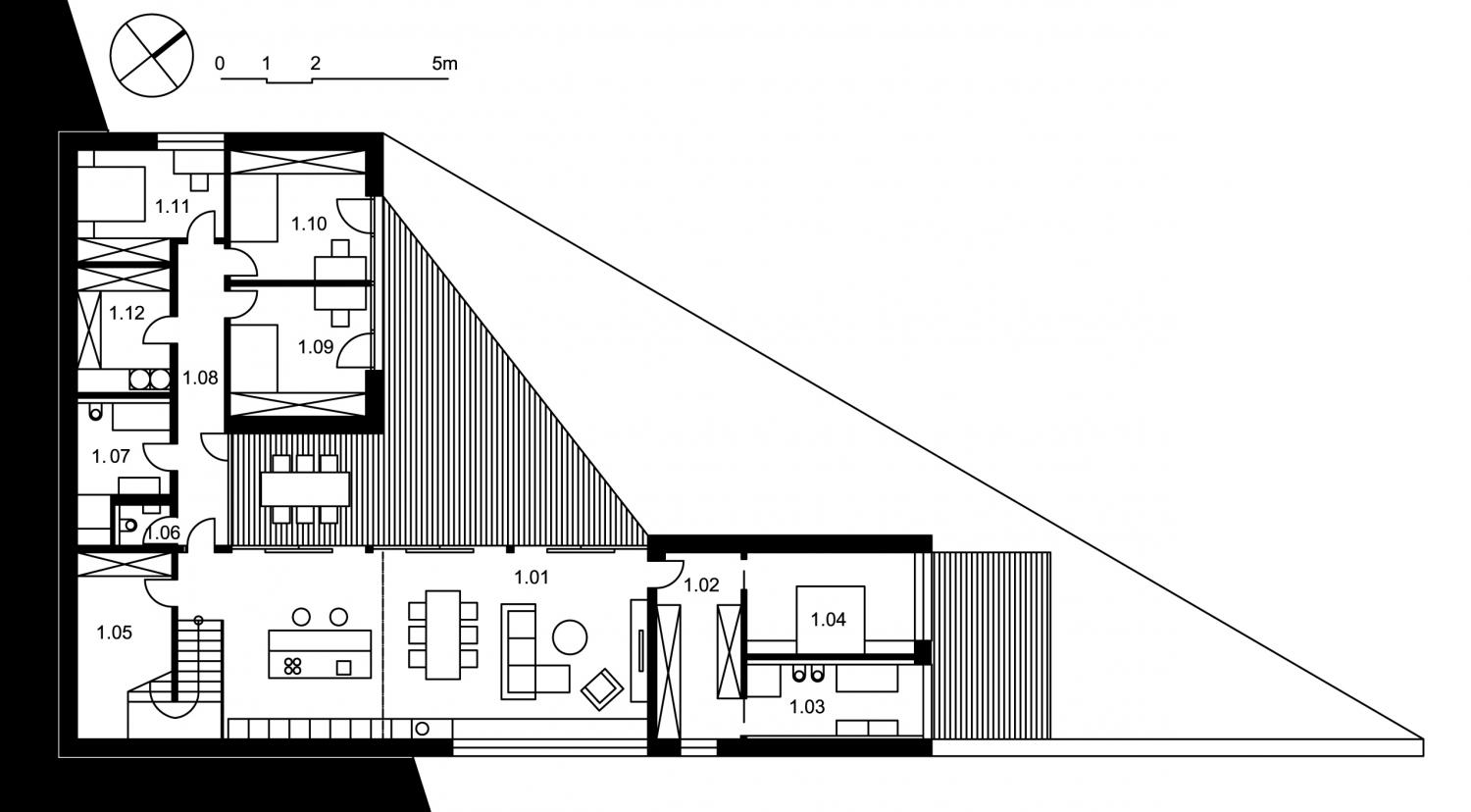 Ground plan of the 1st underground floor (garden level) 218,4 m² (total area 329,5 m²)
1.01 daytime zone (living room, dining room, kitchen) 85,7 m² / 1.02 wardrobe parents 14,2 m² / 1.03 bathroom parents 10,8 m² / 1.04 bedroom parents 14,8 m² / 1.05 terrace furniture storage, pantry 15,4 m² / 1.06 toilet 1,8 m² / 1.07 bathroom children 9,0 m² / 1.08 night corridor 12,4 m² / 1.09 children´s room 1 15,4 m² / 1.10 children´s room 2 15,4 m² / 1.11 guest room 13,2 m² / 1.12 wardrobe and laundry room 10,3 m²