Three bedroom apartment, Residence Kaskady, Bratislava, Slovakia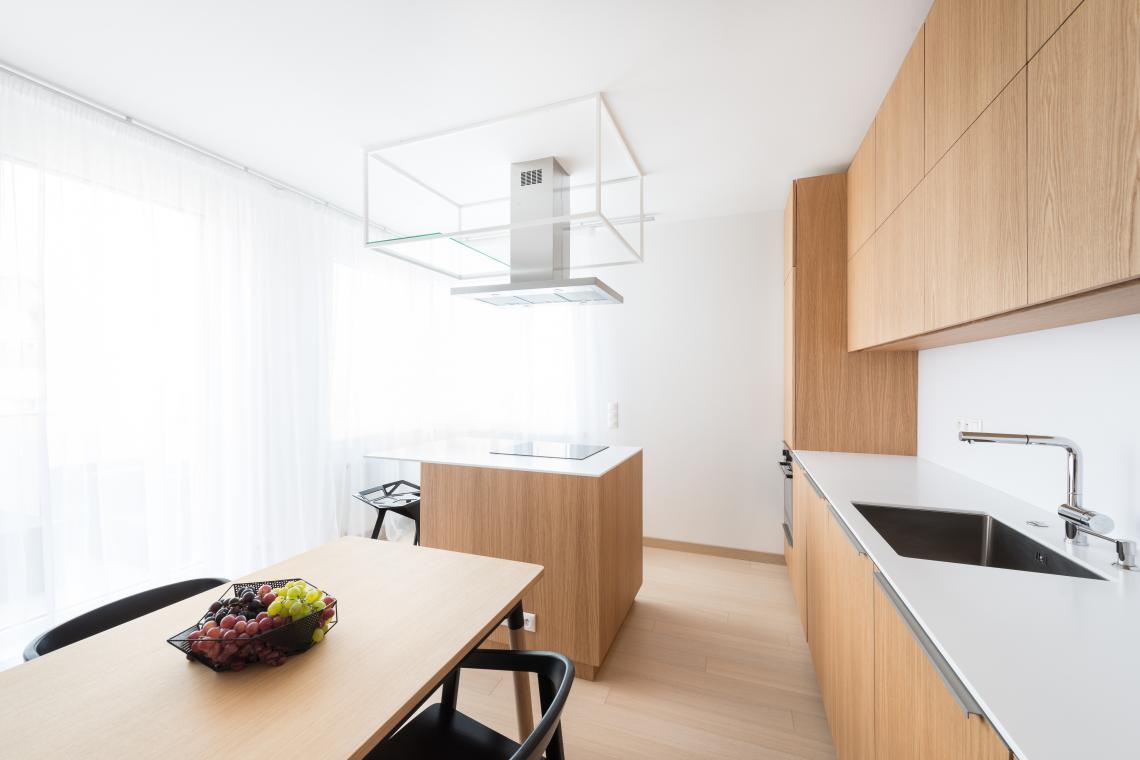 The four room apartment received a ground plan makeover with added night time zone for parents and glass partitions bringing direct daylight into all rooms. Though clear and transparent interior resembles a catalogue design it is functional and practical.
In the ground plan we eliminated weak spots of the apartment by simple layout changes creating a bright and practical apartment with separate children and parents' zones and a study. The original ground plan had two dark corridors – a hall and a night corridor. Huge floor areas and inappropriate proportions of all rooms complicated the arrangement of storage rooms. In the project we merged the rooms into one hall with a cube containing the wardrobe, the pantry, the bookcase and the laundry room. Any spaces adjacent to the corridor (children bathroom and study) were separated from the corridor by glass partitions with the layout letting daylight into all areas. The glass walls can be shaded by curtains. The assignment required added study and a hotel type parents' nigh time zone with the bedroom, the bathroom and the wardrobe. The study is where the original bedroom was and the parents' night time zone is where the original kitchen was. This solution reduced the daytime zone but thanks to optical connection of the hall with the living room abundant daylight gives the apartment generous and spacious feel.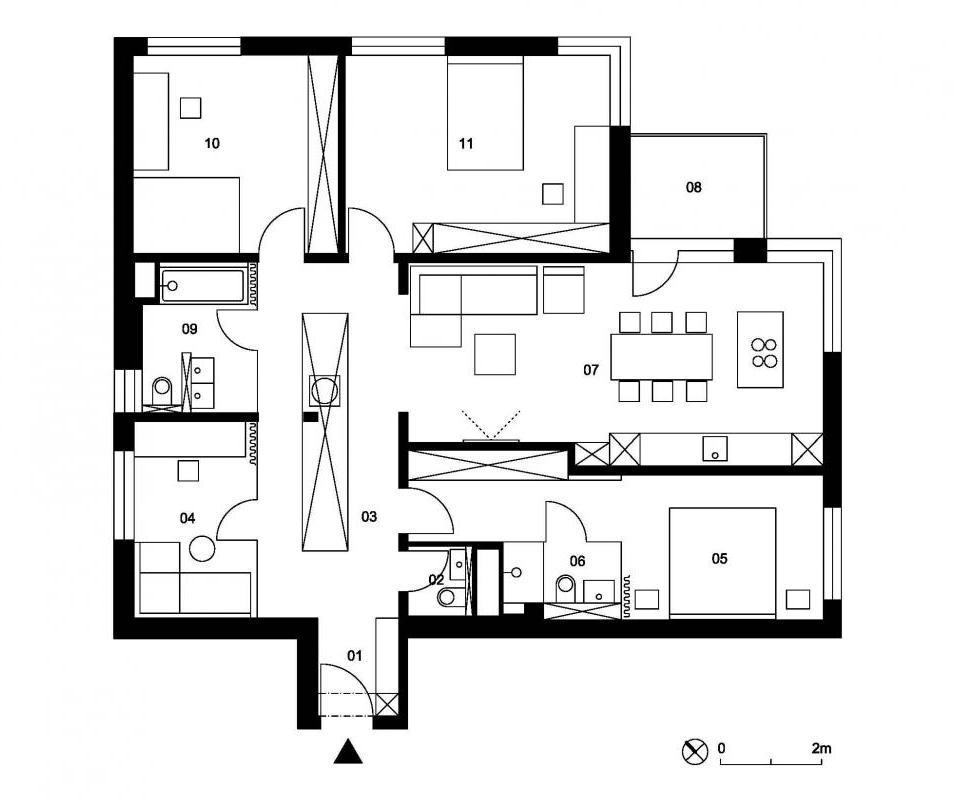 Ground plan after the reconstruction 204,1 m² + terrace 46,1 m²
1.01 vestibule 6,4 m² / 1.02 corridor 15,4 m² / 1.03 room 23,5 m² / 1.04 parents' bedroom 20,6 m² / 1.05 terrace 10,4 m² / 1.06 kids room 20,6 m² / 1.07 parents bathroom 11,2 m² / 1.08 wardrobe 9,2 m² / 1.09 storeroom 3,4 m² / 1.10 children bathroom 5,0 m² / 1.11 entrance hall 12,6 m² / 1.12 living room 46,3 m² / 1.13 kitchen with dining hall 28,5 m² / 1.14 terrace 35,7 m²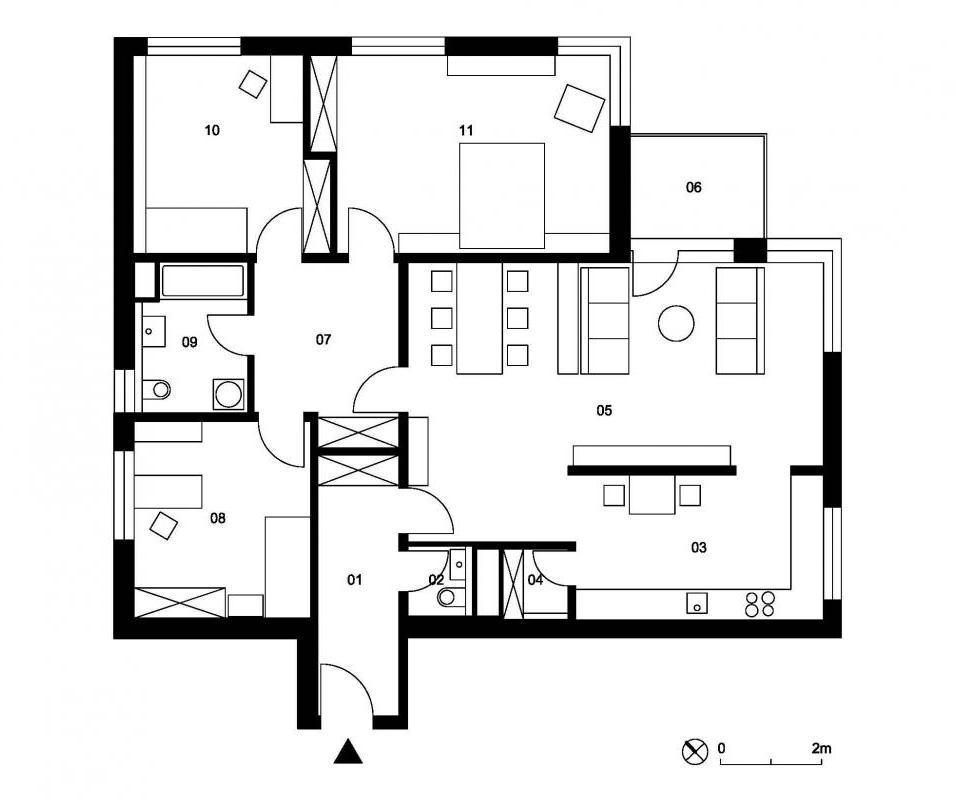 Original ground plan 130,26 m² + 5,46 m² balcony
1.01 vestibule 6,4 m² / 1.02 corridor 15,4 m² / 1.03 room 23,5 m² / 1.04 parents' bedroom 20,6 m² / 1.05 terrace 10,4 m² / 1.06 kids room 20,6 m² / 1.07 parents bathroom 11,2 m² / 1.08 wardrobe 9,2 m² / 1.09 storeroom 3,4 m² / 1.10 children bathroom 5,0 m² / 1.11 entrance hall 12,6 m² / 1.12 living room 46,3 m² / 1.13 kitchen with dining hall 28,5 m² / 1.14 terrace 35,7 m²